ABOUT TOM OF FINLAND
The Life of the Artist
Tom of Finland is the artist name of Finnish Touko Laaksonen (1920, Kaarina – 1991, Helsinki). He signed his erotic work "Tom", and when his drawings were first published in 1957, the now world-famous "Tom of Finland" was born. "Touko Laaksonen" was kept for family and colleagues; both friends and fans have always simply called him "Tom". Tom of Finland's given name was Touko – because he was born on 8th May 1920, on the southwest coast of Finland, and May in Finnish is "Toukokuu".  
A Short Biography
Touko's homeland had been independent for just three years when he was born, and outside its few cities the country was still rough and wild. The men who worked in the fields and woods, the farmers and loggers, were true frontiersmen, every bit as rough and wild as the countryside. Touko grew up among those men but was not a part of their world. Both his parents were schoolteachers, and they raised Touko indoors in an atmosphere of art, literature and music. Obviously talented, by the time he was five he was playing the piano and drawing comic strips. He loved art, literature and music. But he loved those outdoorsmen even more. At that same age of five, Touko began to spy on a neighbour, a muscular, stomping farmboy whose name, "Urho", means "hero". Urho was the first in a long line of heroes to hold Tom's attention while he memorized every flex of their lean muscles, every humorous twist of their full lips. In 1939, Touko began correspondence courses at a school of marketing and advertising. He was inducted in the spring of 1940 and served first in an antiaircraft unit in Helsinki. His fascination expanded to include the sexy city types he found in that cosmopolitan port – construction workers, sailors, policemen – but he never dared proposition them. When Stalin attacked Finland and Tom was wearing a lieutenant's uniform, he found nirvana in the blackouts of World War II. At last, in the streets of the pitch-black city, he began to have the sex he had dreamed of with the uniformed men he lusted after, especially once the German soldiers had arrived in their irresistible jackboots. After the war, Touko studied music at the famed Sibelius Academy. Peace put an end to blackout sex and uniforms became rare again, so Touko returned to his teenage practice of locking himself in his room, stripping naked, and stroking himself with one hand while the other hand created on paper what he could seldom find on the streets. By day, he did freelance artwork – advertising, window displays, fashion design. In the evenings, he played the piano at parties and cafes, becoming a popular member of Helsinki's post-war bohemian set. He avoided the fledgling gay scene, because what were then called "artistic" bars were dominated by the flamboyant effeminacy typical of the time. He traveled frequently, becoming very familiar with the gay cruising areas found in every major city. Still, in 1953, when he met Veli, the man with whom he would live for the next 28 years, it was on a street corner a few blocks from home.
At the end of 1956, at the urging of a friend, Touko sent his secret artwork to a popular American muscle magazine, but, being cautious in those paranoid times, and anyway thinking that "Touko Laaksonen" was too tough a name for American tongues, he had signed them,"Tom". The editor loved them. The cover of the Spring 1957 issue of Physique Pictorial features a laughing lumberjack, drawn by "Tom of Finland". It was a sensation. Touko became Tom of Finland. The rest is history.
The demand for what Tom always called his "dirty drawings" grew quickly, but neither erotic art nor homosexual art paid very well in the 1950s. He soon stopped playing the piano in order to devote the time to his drawing, but it would be 1973 before Tom of Finland was making enough money for Touko Laaksonen to be able to quit his daytime job in advertising. Once he could devote his efforts full-time to his erotic drawing, Tom combined photorealistic attention to detail with his wildest sexual fantasies to produce a body of work that, for sheer homoerotism, will probably never be surpassed. 1976 was the year of Tom's first art exhibition, in Hamburg, Germany, but that experience was so negative (all but one of the drawings were stolen) that it would be 1978 before he would agree to another exhibit, in Los Angeles, for which he made his first trip to America. Over the next couple of years, a series of exhibitions in Los Angeles, San Francisco, and New York, with trips to America for each one, turned the shy Helsinki artist into an international gay celebrity with friends the like of Etienne and Robert Mapplethorpe. The business end of his career was taken up by a Canadian American, Durk Dehner, and under his capable management Tom at last had financial security. In 1981, Tom's lover, Veli, died of throat cancer; at the same time, the AIDS epidemic began to hit hard the very cities and circles of friends he had so recently come to love in America. Still, throughout the Eighties, the trips to America continued to increase until Tom was spending six months in L.A. with Durk Dehner for every six he spent back in Helsinki. After emphysema was diagnosed in 1988, Tom was forced to curtail his beloved traveling but continued to draw. When the disease, and the medication, made his hand tremble too much for him to execute the finely detailed work for which he had become famous, Tom switched back to a childhood favourite, pastel, executing a richly coloured series of nudes in that medium almost up until his death from an emphysema-induced stroke on 7 November 1991. In spite of his own affectionate term, Tom's work must be considered more than just "dirty drawings", and given some of the credit for the change in the gay world's self-image. When Tom's work was first published, homosexuals thought they had to be imitation women, and spent their lives hiding in the shadows. Thirty-five years later, gays were much more likely to be hard-bodied sun-lovers in boots and leather, masculinity personified. Tom's influence in that direction was no accidental byproduct of his art. From the beginning, he consciously strove to instill in his work a positive, up-beat openness. When asked if he was not a little embarrassed that all his art showed men having sex, he disagreed emphatically: "I work very hard to make sure that the men I draw having sex are proud men having happy sex!" — Valentine Hooven II
This short biography is taken from the Benedikt Taschen Verlag GmbH monograph, Tom of Finland published in 1992 / ISBN 3-8228-9342-0. Hooven is the author of the full-length biography, 
TOM OF FINLAND: The Official Life and Work of a Gay Hero
, published by Cernunnos in 2020 / ISBN 978-2-37495-133-1
Featured Posts
Memories of Tom
Tom of Finland, the artist and man, was born, raised and lived most of his life in his native Finland, dying there in 1991 at the age of 71. I was in my mid-twenties when Tom and I started corresponding back in 1976 and was ripe and ready to experience the messages he portrayed in his works. Tom quickly became the most important person to influence my life to that date. I discovered through his work that I was as much of a man as any of my Heterosexual counterparts and that sex and love between men could be a heroic bonding experience – not unlike that of Greek and Roman soldiers. Tom's favorite character, "Kake", was always just as willing to get his hole plowed as he was to do the plowing and clearly sent the message out that sex between men is just plain manly – no matter what position one takes. By his characters' actions Tom showed unbridled sexual passion between men and, afterwards, a brotherhood and camaraderie. His drawings also encouraged guys to experiment and push boundaries, to do anything to turn your partner on and get him off.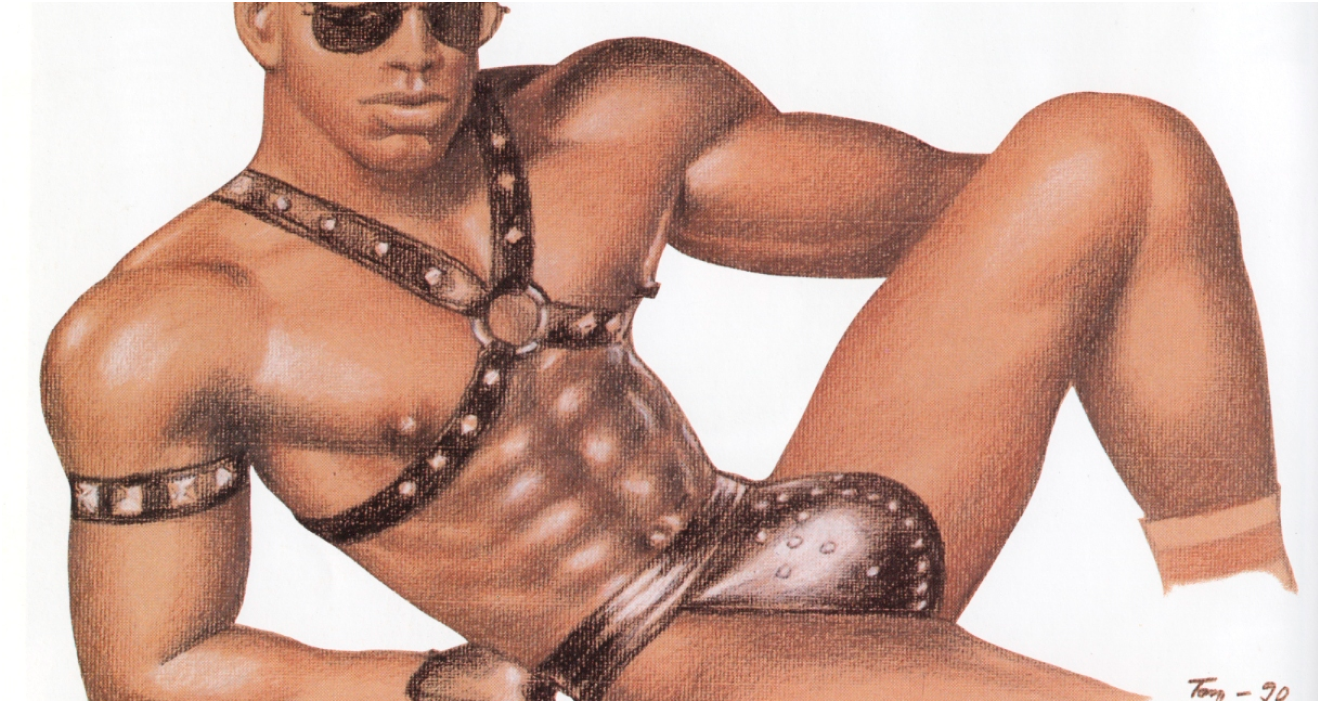 Tom – along with the physique photographers of the '50s – have finally been acknowledged as the men responsible for creating the image of the Leatherman that persists to this day. Tom created – and chronicled – this era. His drawings not only rocked the boundaries of the Gay community of the time but also spread into the Straight leather biker clubs of England, Germany and, eventually, the US. Tom's leatherman image has manifested itself as a style of clothes, build, attitude and lifestyle. In Tom, we have a grandfather of sorts to share with younger generations and if Tom were here today his message would be to stay young at heart. (In fact, Tom continued to frequent the leather and dancing scene well into his sixties). Tom would also tell both men and women that when they are in the heat of sexual arousal and they look at that special guy, his cock looks as big and delicious as any Tom ever drew himself. -Durk Dehner